kr

290,00
REITIR: Tools for Collaboration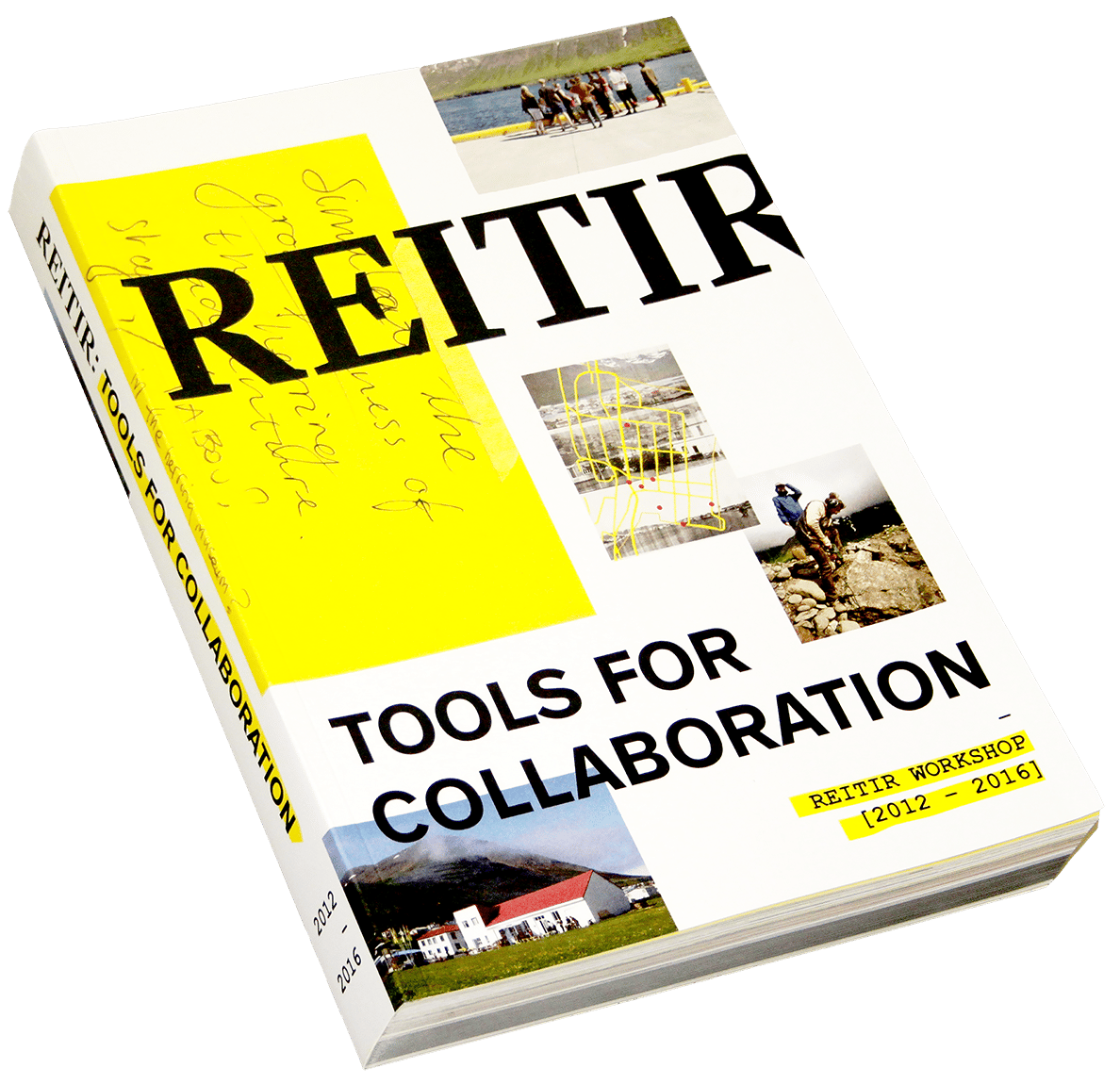 REITIR: Tools For Collaboration is a practical guide to organising collaborative cultural projects and aims to inspire people interested in solution-oriented creative initiatives. The book is based on our experience facilitating REITIR, an annual experimental workshop in Siglufjörður, North Iceland.
REITIR: Tools For Collaboration provides clear and easy-to-use tools and ideas to build a successful platform for impactful collaborations. It gives a thorough overview over how the REITIR workshop is structured and a full catalogue of the 60+ projects made since 2012.
The book is for anyone interested in cross-disciplinary collaborations, workshop organisation, site-specific projects and public space interventions.
STRUCTURE OF THE BOOK
REITIR: Tools For Collaboration is divided into three parts: Workshop – where the production and ideology of REITIR is explained; Tools – where the methods are defined into a one-page ease-to-use tools and Projects – where all projects made by REITIR participants in the past five years are presented.
In addition the book features Pro-tips – with tips and practical know-how spread throughout the book and the Cookbook – featuring the best recipes from Alla (the workshop chef) and her advice on how to cook for a big group of people, with a tight budget.
WHAT IS REITIR
Since 2012, REITIR has annually invited about 25 people from around the world to Siglufjörður to participate in an two week experimental workshop addressing collaboration, site-awareness, cross-disciplinary tools and social engagement and interventions in the public space. REITIR includes professionals from all around the world with all sorts of expertise that collaborate on projects addressing topics found in the locality. The aim of REITIR is to be an active and impactful part of Siglufjörður's cultural development by creating a platform for innovation and critical thinking through collaboration.
REITIR is a workshop by USE, a cultural organisation based in Aarhus, Denmark and Reykjavík, Iceland.
THE TEAM
The REITIR: Tools For Collaboration team consists of:
Sophie Haack is a graphic designer working in the field of culture, art, design and architecture. Sophie Head of Design at USE and Director of NODE. She has been a part of Haack_Marteinsson, REITIR and Bureau Detours. She is the author of the books THIS IS X about the culture/business platform Institut for (X) and "WIP – DENNIS Design Center" about the design activism project DENNIS Design Center.
Arnar Ómarsson is an artist and project manager living in Iceland. He works as project manager at REITIR and heads the Icelandic department of cultural organisation Urban Space Expanders. In his artistic work he addresses the overlapping area of technology and nature. Anthropology of technology informs his practise as well as his passion for science and human explorations. Arnar regularly exhibits his own work as well as giving talks and workshops about project development, cross disciplinary collaborations and fine art.
Ari Marteinsson is a designer based in Aarhus, Denmark, who works in the fields of design, art and architecture. Ari heads the culture bureau USE and the experimental culture platform Non-Space as well as working as project manager at REITIR, Bureau Detours and Haack_Marteinsson.
Ari's work takes place in urban contexts where he creates cross-disciplinary projects, exhibitions, platforms and books.
Morgane Parma is based in Paris and works as a freelance visual communication designer.
Her different professional experiences and collaborations bring her to work on various fields such as illustration, photography, graphic design and video.
Kristján Einarsson is a mathematician with a passion for developing teaching materials and game design.
William Marriott is an artist and curator based in South East London and one half of the collaboration Millington | Marriott. William has set up numerous project spaces in London and worked with International artists through series of programmed exhibitions and on-off events.
Aðalheiður S. Eysteinsdóttir is a renowned artist and culture creator. In the past 20 years, she has organised and produced a great number of culture events as well as exhibiting her own work all over the world. She is the owner of Alþýðuhúsið, a former community center in Siglufjörður that functions as a platform for Aðalheiður to express her passion for art and culture.
Aðalheiður hosts the REITIR workshop, helps with the production of it and runs a high quality kitchen throughout the workshop, producing four healthy meals a day. One of her favourite kitchen challenges is to make cakes and other traditionally sweet foods without any sugar and flour.
SUPPORT
The content of the REITIR: Tools For Collaboration book is funded by more than 50 people (through a crowdfunding campaign on Karolinafund.is), Evrópa Unga Fólksins (Erasmus+), The Icelandic Ministry of Education, Science and Culture and UMFÍ.